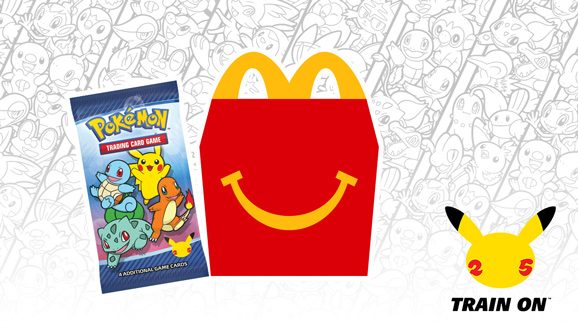 2021 is the 25th anniversary of Pokémon!
I love it but I'm not as obsessed as a lot of people I know, including my fiancé XD I started with Red and quit for a long time.
Then when X and Y came out, hubs got me back into it and have been playing since then!
I have to admit that I didn't think I would be playing as long as I have. But when you share the same loves as someone
, it kinda' becomes one of your favorite things too XD But it also looks like scalping has become an issue with Pokémon as well, unfortunately.
Part of the 25th anniversary celebration, Pokémon is teaming up with a lot of different companies and brands. One of those being fast food places like McDonald's!
I know, it's for a Happy Meal. But I still appreciate a good item like this!
Here are all of the possible Pokémon items you could get~
Every Happy Meal comes with one of these, a Pikachu box and a pack of four TCG cards.
Unless you were unlucky and they were sold out.
I wanted to see what I had a chance of getting. Of course, I really hoped for anything with the cute little Scorbunny. But I decided I would be happy with anything that I got.
You could actually punch out parts of the box and give your Happy Meal some Pikachu ears. It's really cute!
I ended up getting this frame(?) of Pikachu. I don't know if it's a card display or just a photo frame. Either way, I actually kind of like it. It's a little more practical than the other items. But anyway...
The cards I got were....
That's pretty cool. I was definitely hoping for one of the original gen starters if I had a preference for any. It's just funny that three out of the four cards are turtles!
And you're always guaranteed one shiny card!
It would have been nice if I didn't get two of the same but oh well. It's the chance you take with packs and blind bags.
At least I can say I actually was able to get one. Especially since Pokémon stuff is sold out in most places...
Do you like Pokémon? Were you able to get the Happy Meal? Let me know in the comments what are your favorite Pokémon and if you got the cards, which ones!